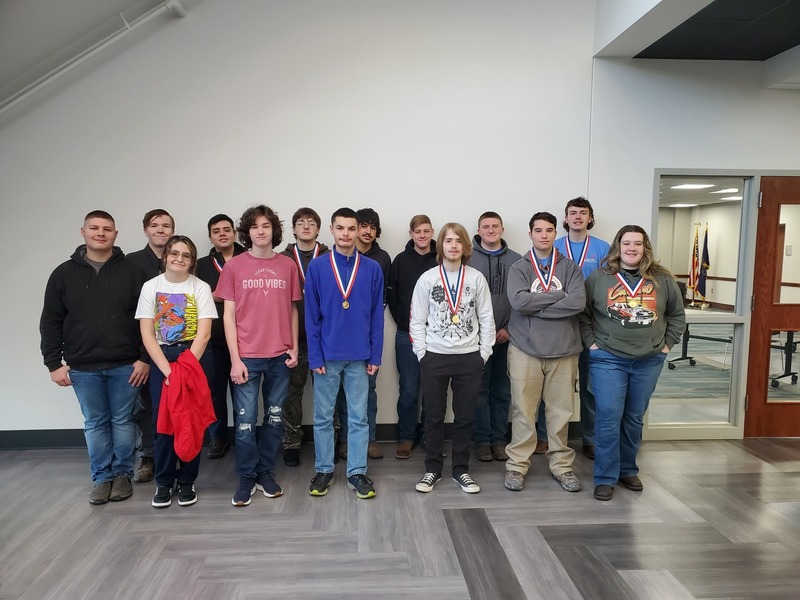 Taking skills learned in the classroom and applying those lessons to real-world scenarios is the ultimate goal for South Harrison. To see South Central's Noah Junga and Corydon Central students Kanen Mathes and Matthew Trowbridge compete at SkillsUSA last month is incredible.
Each student participated in different divisions: Noah in CNC Programmer, Mattew Trowbridge in Precision Machining and Kanen Mathew in Masonry. Noah had to show he could independently plan and program jobs for 2-Axis CNC (Computer Numerical Control) turning centers and 3-Axis CNC milling machines and provide instructions for operators to execute. Matthew was required to pass a written test of general shop knowledge in addition to showing his precision measuring skills with test blocks, manual mill and manual lathe project. Turning, milling, drilling and tapping were included. Kanen was expected to construct a composite brick and block project in a six-hour period, and it had to meet industry standards in quality. Along the way, each student had to troubleshoot and adjust to new developments in their task they could likely experience out in the field. Kanen placed third in his division.
Noah, Matthew and Kanen were eligible to participate in the SkillsUSA competition through Prosser. Since the beginning of the school year, they have been learning the programs and skills needed for these competitions and the workforce, showing tremendous improvement and mastery of classroom concepts.
SkillsUSA offers more than over 100 skill categories for vocational schools across Indiana, the country and the world to attend.