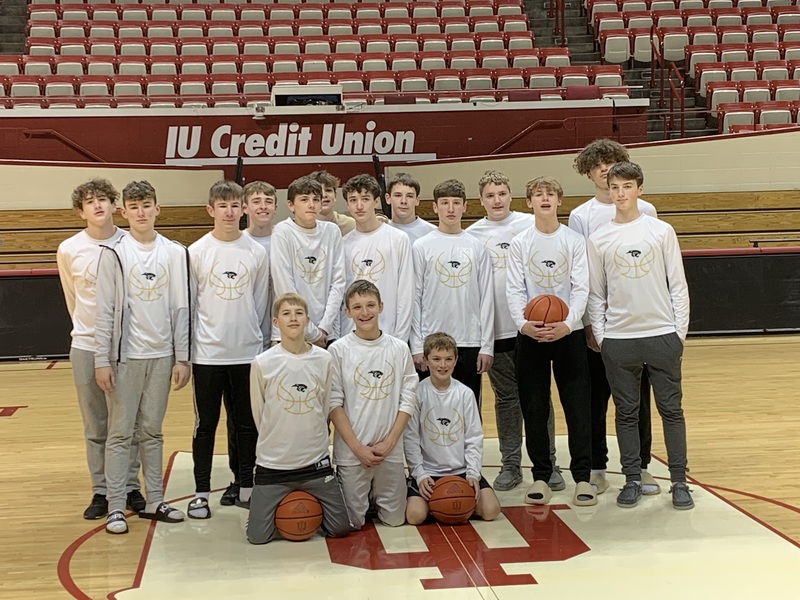 This weekend, our Panther Basketball programs went to Jackson Creek Jaguars. Our 8th grade Lady Panthers brought home a win with an ending score of 30-23. Points were put up by Jones (5), Wright (6), Waldo (2), Evans (2), Gerdon (3), Knasel (2), and Lathan (10). Our 7th fought hard but fell short to the Jaguars, with an ending score of 27-33. Points were put up by Bulleit (22), Knasel (2), Williams (1) and Short (2). Great job girls
After that, the 8th grade Boys B team played the Jaguars 7th grade team. The Panthers started off strong, but they ultimately lost 30-20.
In the final contest, our 8th grade boys played their 8th grade. The Panthers fell behind early 19-5 against their gigantic starting lineup but clawed within 10 points at half. Your Panthers continued battling and fell just short at the end 40-38.
After the basketball games, the Panthers were lucky enough to visit Assembly Hall at IU. Our athletes were able to tour Assembly Hall and Cook Hall. We even got to see some of the players and Coach Woodson. Special thanks to Coach Harl for setting up this trip.
Written by Grace Evans